The Oxmarket Gallery is a volunteer-run charity whose mission is to promote art and support artists in a professional and inclusive manner.
We provide a range of accessible exhibition spaces for artists, art societies and groups, whether local or national. In addition we curate exhibitions and run events designed to encourage artists to develop their practice. Our art policy is designed to promote high quality work.
All our exhibitions, over 150 every year, are free to the public, to encourage people in our community to engage with art. We attract over 30,000 visits a year. Most of the work on show is for sale too, so you can buy affordable, unique artworks all year round at the Oxmarket.
We are housed in a Grade II listed, medieval church in the heart of Chichester and have parking right on our doorstep. The deconsecrated church was converted to an arts centre in the early seventies, after being left derelict from bomb damage in WW2,  and has been run as a charity ever since. We celebrated our fortieth anniversary in 2016.
Philip Jackson CVO exhibits at Oxmarket Gallery
13 October – 1 November
NO BOOKING REQUIRED 
World renowned sculptor Philip Jackson will be exhibiting for the first time at the Oxmarket Gallery, Chichester to help raise funds for the "Refresh"* appeal to upgrade and improve the Oxmarket Gallery, a medieval Grade II church.  The exhibition will consist of 28 sculptures large and small.
Philip Henry Christopher Jackson CVO DL is noted for his modern style and emphasis on form. His works are sited in many UK cities, as well as Argentina, Switzerland and the UAE.  He is well known for his major outdoor pieces such as Bobby Moore and Sir Alf Ramsey at Wembley Stadium, the equestrian sculpture of the Queen riding in Windsor Great Park and the RAF Bomber Command Memorial in London's Green Park.
Many of his gallery works, which are inspired by Venice, are held in public and private collections around the world.
Britain's greatest living figurative sculptor was born in Inverness and works out of his busy studio in West Sussex. Last year Jackson, was commissioned to create the National Emergency Services Memorial (NESM). Backed by the Duke of Cambridge, it comprises six life-size-and-a-half figures representing leading emergency services and the NHS, plus a dog to represent all animals that work with those services. The maquette of NESM will be shown publicly for the first time at Oxmarket Gallery.
Oxmarket Gallery's "Refresh" appeal is an exciting and urgently needed project to upgrade and enhance the entrance, increase exhibition space and provide new facilities.
"It is a huge honour for the Oxmarket to host and exhibit Philip Jackson's fabulous work," says Oxmarket Chair Sophie Hull. "We have a truly wide range of works here ranging in size from to 180mms to over two metres".
Philip describes his gallery work as "essentially an impressionistic rendering of the figure. Where you see the figure seemingly grow out of the ground, the texture resembles tree bark, rock, or lava flow. As the eye moves up the sculpture, the finish becomes gentler and more delicately worked, culminating in the hands and the mask, both of which are precisely observed and modelled".
"His research and attention to detail cannot be surpassed.  Philip has a passion for art for the young and is a strong supporter of art in the community," Sophie Hull adds.
Entry is free and donations voluntary and to go towards Refresh.  The sculptures are available for sale.
"Oxmarket Gallery is a much-loved local gallery and community space, largely run by volunteers and if it is to continue to be sustainable and attract a larger footfall, it must do this refurbishment work," Sophie Hull explains.  "We appointed local architects Cover Storey and obtained planning permission earlier this year.  It is going to cost at least £150,000 and as a small local charity we need all the help we can get.  We are hoping local philanthropists will consider supporting the project which will enable us to better serve the gallery users, visitors, staff and volunteers, as well as enabling us to expand our work with organisations that support local disadvantaged young people.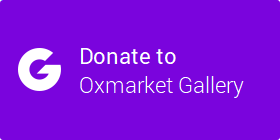 For further information please contact Sophie Hull, Chair, Oxmarket 07957422018 or Abigail Day, Gallery Manager on 01243 779103 .
Or
The Sculpture Studio, 01730 812586
Photographs are available from info@oxmarket.com or Sophie Hull sophiedghull@gmail.com
REFRESH – Upgrading and Improving Oxmarket Gallery
This project will deliver improvements to a space where the wellbeing of the users will be dramatically enhanced.  This much-loved community facility needs urgent updating to ensure the Gallery spaces continue to meet the needs of its users and visitors, and to safeguard its sustainability going forward.  It needs to upgrade the facilities and increase gallery space, replace the toilets and include a disabled toilet, improve the entrance area and improve the lack of external and internal signage.
Annual income comes from gallery hire and small donations from the public.  This does not allow for 'capital works' so this appeal is to local individuals, trusts, foundations, and statutory sources. Oxmarket does not have the resources to hold fundraising events, so our fundraising strategy is very focussed, and the only event is the Philip Jackson CVO Exhibition. Chichester District Council and Chichester City Councils are supporting the campaign.
Biography Philip Jackson CVO
Philip Henry Christopher Jackson CVO DL is a Scottish sculptor, noted for his modern style and emphasis on form. His sculptures appear in numerous UK cities, as well as Argentina and Switzerland.  He is well known for his major outdoor pieces, such as the Young Mozart in Chelsea and the Jersey Liberation sculpture. His sources of inspiration include Jacob Epstein and Auguste Rodin and he has worked with Henry Moore, Oscar Nemon and Kenneth Armitage.
2008: On 1 April 2008, Jackson was appointed a Deputy Lieutenant of West Sussex.
2009: Jackson was appointed Commander of the Royal Victorian Order (CVO) in the 2009 Queen's Birthday Honours List.
Notable public commissions include:
Wolfgang Amadeus Mozart – Belgravia, London, Falklands War Sculpture – Portsmouth, Liberation Sculpture – Jersey, Channel Islands, Sir Matt Busby – Old Trafford, Manchester, Empress Elisabeth of Austria – Geneva, Switzerland, St Richard – Chichester Cathedral, Constantine the Great – York Minster, King George VI – Britannia Royal Naval College, Dartmouth, The Gurkha Monument – Horse Guards Avenue, London, 1966 World Cup Sculpture – Newham, London, Queen Elizabeth II – Windsor Great Park, Bobby Moore and Sir Alf Ramsey – Wembley Stadium, London, United Trinity – Old Trafford, Manchester, Sir Alex Ferguson – Old Trafford, Manchester, Peter Osgood – Stamford Bridge, Fulham, Korean War Memorial, Victoria Embankment, London, Mahatma Gandhi, Parliament Square, London, Constantine the Great, York, RAF Bomber Command Memorial, Green Park, London. As well as producing public commissions, Jackson also creates gallery works, many inspired by Venice and the Maschera Nobile.